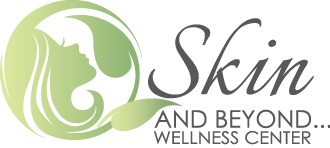 TERMS OF USE/LEGAL STATEMENT
Your use of this Site constitutes your agreement to comply with the following terms and conditions (the "Agreement"):
Intellectual Property Rights
This Site and all materials contained on this Site, including but not limited to images, text, photographs, designs, icons and illustrations, except those already covered by existing copyright and intellectual property protections, are the property of Nataliya's Healing Center LLC dba Skin And Beyond Wellness ("SABW"), and/or its owners or affiliates. To reproduce, republish, alter, upload, post, transmit, distribute or publicly display material from this Site, you will need written permission from SABW. The service marks, trademarks and logos used and displayed on this Site are all property of SABW and others. Nothing contained on the Site should be construed as granting, by implication, estoppel, or otherwise, any license or right to use any trademark displayed on the Site without the written permission of the trademark owner. Users may view and download material from this Site only for personal, noncommercial home use, and such permission is deemed adequate consideration for this contract. SABW will aggressively enforce its intellectual property rights to the fullest extent of the law. Any rights not expressly guaranteed herein are reserved by SABW.
Product/Advice Disclaimer
This web site does not offer medical advice, or attempt to diagnose or treat any skin problem, disease, or skin condition. If you have a medical problem with your skin, please make an appointment to see a qualified medical professional in your area. All products should be used as directed on the product container or on this website. Discontinue using any product that causes irritation (redness, itching, burning, scaling, soreness, or other symptoms) and immediately seek the care of a qualified medical professional. If you are dissatisfied with any product purchased here, you may return it for a full refund within 30 days of the purchase date.
Return Policy
At SABW, we stand behind every product we sell. If you are not absolutely satisfied with your purchase from SABW either in person or through the internet, for any reason, we will happily provide full refund or credit (including tax where applicable) for merchandise returned within 30 days of your purchase date, issued in the original form of payment. After 30 days, returns will be issued as an in-house credit that will be applied to your next purchase. Please note that you are responsible for shipping costs and the safe return of merchandise; we're sorry, but shipping fees are not refundable.
WARRANTY DISCLAIMER
THE CONTENT OF THIS SITE IS PROVIDED "AS IS" AND WITHOUT WARRANTIES OF ANY KIND, EITHER EXPRESS OR IMPLIED. THE PRODUCTS SOLD THROUGH THE SITE ARE SOLD "AS IS" AND WITHOUT WARRANTIES OF ANY KIND, EXPRESS OR IMPLIED.

TO THE FULLEST EXTENT PERMISSIBLE PURSUANT TO APPLICABLE LAW, SABW DISCLAIMS ALL WARRANTIES, EXPRESS OR IMPLIED, INCLUDING BUT NOT LIMITED TO IMPLIED WARRANTIES OF MERCHANTABILITY, TITLE, NONINFRINGEMENT AND FITNESS FOR A PARTICULAR PURPOSE. SABW DOES NOT WARRANT OR REPRESENT THAT THE CONTENT ON THE SITE, WHETHER PREPARED BY SABW OR BY THIRD PARTIES, IS ACCURATE OR RELIABLE, THAT THE SITE WILL BE FREE OF ERRORS OR VIRUSES OR THAT YOUR ACCESS TO AND USE OF THE SITE WILL BE UNINTERRUPTED OR SECURE. YOUR SOLE REMEDY FOR DISSATISFACTION WITH THE SITE IS TO STOP USING THE SITE. YOU ACKNOWLEDGE BY YOUR USE OF THE SITE THAT YOUR USE OF THE SITE IS AT YOUR SOLE RISK. SABW IS NOT RESPONSIBLE FOR ANY DIRECT, INDIRECT, INCIDENTAL, CONSEQUENTIAL, SPECIAL, PUNITIVE OR OTHER DAMAGES, WHETHER ARISING OUT OF CONTRACT, NEGLIGENCE, STRICT LIABILITY OR OTHER THEORY, IN CONNECTION WITH THE SITE, THE CONTENT THEREOF OR THE PRODUCTS SOLD AND DESCRIBED THEREON, EVEN IF ADVISED OF THE POSSIBILITY OF SUCH DAMAGES. IN NO EVENT SHALL SABW LIABILITY TO A USER EXCEED THE GREATER OF THE AMOUNT PAID BY THE USER FOR ACCESSING THE SITE OR FOR THE PURCHASE OF PRODUCTS SOLD THEREON.
Void Where Prohibited
Although the Site is accessible worldwide, not all products discussed or sold on the Site will be available to all persons or in all geographic locations or jurisdictions. SABW reserves the right to limit, in its sole discretion, the availability to the Site and/or the provision and quantity of any product or service to any person, geographic area or jurisdiction it so desires. Any offer for any product made in connection with the Site is void where prohibited. Use of this Site is unauthorized in any jurisdiction (1) that does not give full effect to all provisions of this Agreement, (2) where all or any portion of this Site may violate any legal requirements.
User Code of Conduct
You agree not to:
· restrict or inhibit any other user from using and enjoying the Site and services;
· transmit any unlawful, fraudulent, threatening, abusive, libelous, defamatory, obscene or otherwise objectionable or harmful information or materials, or any information or materials that could constitute or encourage conduct that would be considered a criminal offense, give rise to civil liability, or otherwise violate any law;
· transmit any information or software that contains a virus, worm, Trojan horse or other harmful or disruptive component;
· transmit materials in violation of another party's intellectual property rights;
· use the Site for any commercial or unlawful purposes; or
· modify, adapt, sublicense, translate, sell, reverse engineer, decompile or disassemble any portion of the Site.
Indemnification
You agree to indemnify, defend and hold harmless SABW from and against any and all claims, damages, costs or other expenses, including all reasonable attorneys' fees incurred at arbitration, on any trial or appeal that arise, directly or indirectly out of or from your breach of this Agreement (including your violation of the Code of Conduct) and/or out of any other of your activities in connection with the Site. This section will survive the termination of this Agreement for any reason. If you wish to make purchases of products described on the Site, you may be asked to supply certain information including but not limited to credit card or other payment information. You understand that any such information will be treated by SABW in the manner described in its Privacy Policy. You agree that all such information that you provide will be accurate, complete, and current. You agree to pay all charges incurred by users of your account and credit card or other payment mechanism at the prices in effect when such charges are incurred. You will also be responsible for paying any applicable taxes relating to your purchases. The prices displayed on the Site are in U.S. dollars.
Customer Rating and Review Service: Terms of Use
These Terms of Use govern your conduct associated with the Customer Ratings and Review service offered by SABW (the "CRR Service"). To the extent of any conflict between SABW's Privacy Policy and these Terms of Use, these Terms of Use shall control with respect to the CRR Service.
By submitting any content to SABW including but not limited to questions, reviews, blog content, and customer feedback, you represent and warrant that:
you are the sole author and owner of the intellectual property rights thereto;
all "moral rights" that you may have in such content have been voluntarily waived by you;
all content that you post is accurate;
you are at least 18 years old;
use of the content you supply does not violate these Terms of Use and will not cause injury to any person or entity.
You further agree and warrant that you shall not submit any content:
that is known by you to be false, inaccurate or misleading;
that infringes any third party's copyright, patent, trademark, trade secret or other proprietary rights or rights of publicity or privacy;
that violates any law, statute, ordinance or regulation (including, but not limited to, those governing export control, consumer protection, unfair competition, anti-discrimination or false advertising);
that is, or may reasonably be considered to be, defamatory, libelous, hateful, racially or religiously biased or offensive, unlawfully threatening or unlawfully harassing to any individual, partnership or corporation;
for which you were compensated or granted any consideration by any third party;
that includes any information that references other websites, addresses, email addresses, contact information or phone numbers;
that contains any computer viruses, worms or other potentially damaging computer programs or files.
You agree to indemnify and hold SABW (and its officers, managers, directors, agents, subsidiaries, joint ventures, employees and third-party service providers, including but not limited to Nataliya's Healing Center LLC), harmless from all claims, demands, and damages (actual and consequential) of every kind and nature, known and unknown including reasonable attorneys' fees, arising out of a breach of your representations and warranties set forth above, or your violation of any law or the rights of a third party. For any content that you submit, you grant SABW a perpetual, irrevocable, royalty-free, transferable right and license to use, copy, modify, delete in its entirety, adapt, publish, translate, create derivative works from and/or sell and/or distribute such content and/or incorporate such content into any form, medium or technology throughout the world without compensation to you. All content that you submit may be used at SABW's sole discretion. SABW reserves the right to change, condense or delete any content on SABW's website that SABW deems, in its sole discretion, to violate the content guidelines or any other provision of these Terms of Use. SABW does not guarantee that you will have any recourse through SABW to edit or delete any content you have submitted. Ratings and written comments are generally posted within two to four business days. However, SABW reserves the right to remove or to refuse to post any submission for any reason. You acknowledge that you, not SABW, are responsible for the contents of your submission. None of the content that you submit shall be subject to any obligation of confidence on the part of SABW, its agents, subsidiaries, affiliates, partners or third party service providers and their respective directors, officers and employees. By submitting your email address in connection with your rating and review, you agree that SABW may use your email address to contact you about the status of your review and other administrative purposes.
Use of Passwords
Use of any password-protected area of the Site is restricted to the individual who has been given permission and a password to enter such area (the "Authorized Party"). The password cannot be distributed to others, and the Authorized Party is responsible for any and all damages to SABW resulting from the distribution of his or her password. If more than one individual wishes to use a single password belonging to an Authorized Party, such Authorized Party must request permission from SABW in writing, it being understood that SABW shall be under no obligation to approve any such request.
Modifications
SABW shall have the right at any time to (a) change the terms of this Agreement, (b) change the Site, including eliminating or discontinuing any content or feature of the Site, restricting the hours of availability, or limiting the amount of use permitted, or (c) change any fees or charges for use of the Site, including instituting new or increased fees or charges for the use of the Site or any other related services or feature thereof. This Agreement may be modified by SABW at any time by SABW posting the modified terms on this Site, and your continued use of the Site thereafter shall be deemed acceptance of those terms and conditions.
Privacy Policy
This privacy policy discloses the privacy practices for Skinandbeyondwellness.com. SABW is the sole owner of the information collected on this site. We only have access to/collect information that you voluntarily give us via email or other direct contact from you. We will not sell or rent this information to anyone. We will use your information to respond to you, regarding the reason you contacted us. We will not share your information with any third party outside of our organization, other than as necessary to fulfill your request, e.g. to ship an order. Unless you ask us not to, we may contact you via email in the future to tell you about specials, new products or services, or changes to this privacy policy. By calling us, you may opt out of any future contacts from us at any time. We take precautions to protect your information; when you submit sensitive information via the website, your information is protected both online and offline. Wherever we collect sensitive information (such as credit card data), that information is encrypted and transmitted to us in a secure way. You can verify this by looking for a closed lock icon at the bottom of your web browser, or looking for "https" at the beginning of the address of the web page. While we use encryption to protect sensitive information transmitted online, we also protect your information offline. Only employees who need the information to perform a specific job (for example, billing or customer service) are granted access to personally identifiable information. The computers/servers in which we store personally identifiable information are kept in a secure environment. Our Privacy Policy may change from time to time and all updates will be posted on this page. If you feel that we are not abiding by this privacy policy, you should contact us immediately via telephone at 385-355-4334 or via email.
Miscellaneous
You agree that this Agreement is entered into in the State of Utah and shall be governed by and construed in accordance with the laws of the state of Utah, exclusive of its choice of law rules. Except for injunctive relief sought by any party, all disputes between SABW and any site-user or customer shall be resolved by arbitration conducted in Salt Lake County, State of Utah. For those matters not subject to the foregoing arbitration provision, each party to this Agreement submits to the exclusive jurisdiction/venue of the state and federal courts sitting in Salt Lake County, State of Utah, and waives any jurisdictional, venue, or inconvenient forum objections to such courts. In any action to enforce this Agreement, the prevailing party will be entitled to costs and attorneys' fees. In the event that any of the provisions of this Agreement are held by a court or other tribunal or competent jurisdiction to be unenforceable, such provisions shall be limited or eliminated to the minimum extent necessary so that this Agreement shall otherwise remain in full force and effect and enforceable. In the event that a party seeks injunctive relief, such relief may be granted without the posting of bond. This Agreement constitutes the entire agreement between the parties hereto pertaining to the subject matter hereof, and any and all prior or contemporaneous written or oral agreements existing between the parties hereto are expressly canceled. No waiver by SABW of any breach or default hereunder shall be deemed to be a waiver of any preceding or subsequent breach or default. Any heading, caption, or paragraph title contained in this Agreement is inserted only as a matter of convenience and in no way defines or explains any paragraph or provision hereof.